THIS PLEASANT CITY in the shadow of the Sierra has been the Nevada capital since Nevada Territory was established in 1861, and government has provided the dominant influence on the municipal character for more than a century and a half. While it doesn't have the size or reputation of Reno or Las Vegas, Carson City welcomes visitors with its frontier architecture, historical attractions and its surprisingly wide range of hospitalities. Children are easy to entertain here by day, and Carson City is no longer just a one-martini town by night.

Carson City has long been an attractive little city, and now that the highway traffic has been routed around the city, the downtown belongs to the people again.

In 1851, Eagle Valley had been settled by ranchers, many of them Mormon families sent out from Salt Lake City. A few years later, a cadre of investors whose names still decorate downtown street signs here (Proctor, Musser, Curry) bought the richest part of the valley for $500 and a remuda of horses. In 1858 Curry plotted a townsite on his land and named it for the river that had itself been named in honor of John C. Fremont's most celebrated scout.

In the spring of the next year, to his everlasting delight, the discovery of the Comstock Lode brought his townsite to life as a freight and transportation center. He then built the crude Warm Springs Hotel a mile to the east, and when Carson City was selected as the territorial capital in 1861, he leased it to the Legislature as a meeting hall.

The Territorial legislature established Carson City as the seat of Ormsby County (named for one of those killed at the Battle of Pyramid Lake). It then leased the Warm Springs Hotel to serve as the Territorial Prison, and hired their genial host and landlord, Abe Curry, to be its first warden. The property was eventually purchased by the state and is still a part of the state prison system — drive east on Fifth Street to see the gloomy sandstone walls across from the sewage treatment plant, or see it from the inside by watching the Tom Selleck movie "An Innocent Man."

Orion Clemens and his younger brother Sam arrived in Carson City by stage coach in 1861. Orion had been appointed Secretary of the newly-formed Nevada Territory, and his younger brother was running away from the Civil War, hoping to be the secretary to the Secretary. Instead he became Mark Twain, and described 1860 Carson City this way when he wrote "Roughing It" a few years later: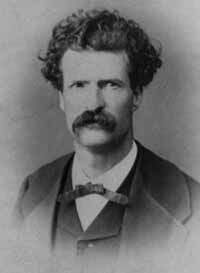 Sam Clemens made his name — Mark Twain — as a newspaper reporter at the Territorial Legislature.
"It was a 'wooden' town; its population two thousand souls. The main street consisted of four or five blocks of little white frame stores that were too high to sit down on but not too high for various other purposes. They were packed close together, side by side, as if room were scarce in that mighty plain. The sidewalk was of boards that were more or less loose and inclined to rattle when walked upon. In the middle of town, opposite the stores, was the 'plaza' which is native to all towns beyond the Rocky Mountains — a large, unfenced, level vacancy, with a liberty pole in it, and very useful for a place of public auctions, horse trades, and mass meetings, and likewise for teamsters to camp in. Two other sides of the Plaza were faced by stores, offices, and stables. The rest of Carson City was pretty scattering.


"We were introduced to several citizens, at the stage office and on the way up to the governor's from the hotel — among others to a Mr. Harris, who was on horseback; he began to say something, but interrupted himself with the remark, 'I'll have to get you to excuse me a minute; yonder is the witness that swore I helped to rob the California coach — a piece of impertinent intermeddling, sir, for I am not even acquainted with the man.'


"Then he went over and began to rebuke the stranger with a six-shooter, and the stranger began to explain with another. When the pistols were emptied, the stranger resumed his work (mending a whiplash), and Mr. Harris rode by with a polite nod, homeward bound, with a bullet through one of his lungs, and several in his hips; and from them issued little rivulets of blood that coursed down the horse's sides and made the animal look quite picturesque. I never saw Harris shoot a man after that but it recalled that first day in Carson."
Carson City was confirmed as Nevada's permanent capital upon statehood in 1864, and after that development was no longer completely dependent on the health of the Comstock mines. Until they began to decline in the 1880s, these mines provided Carson City with most of its economic importance as a freight and staging center, and as a marshalling point for much of the timber harvest in the Lake Tahoe basin.

Long wooden flumes, capable of carrying enormous pine logs in a shallow spill of fast water, swooped down the steep eastern slope of the Sierra from Spooner Summit to Carson City. Scorched and smoldering where they had rubbed against the flume's sides in their dashing descent, the logs were fed into sawmills where they became timbers for the underground mines, and planed boards for the surface cities. The finished lumber was then loaded onto flatcars and rolled off to Silver City, Gold Hill and Virginia City via the Virginia & Truckee Railroad.

V&T Postcard
The V&T was completed between Carson City and Virginia City in 1869, with the railroad's shops and main offices in Carson City. Three years later, the V&T rails were extended north through Washoe Valley to connect with the transcontinental railroad at Reno. By 1874, when the Comstock mines were reaching their peak production, 36 trains a day passed through Carson City. The huge sandstone V&T engine house and roundtable dominated the northeast corner of the city for well over a century. Neglected and falling into ruin after the track was torn up in 1950, they have now been torn down, the stones sent to create winery facades in California's Napa Valley.

Like many another Nevada town in its youth, Carson City was made lively and occasionally dangerous by the presence of rootless, restless men. Shootings, stabbings and street brawls were commonplace around Nevada, but Carson City was unique in contending with outbreaks from the State Prison.


The prison had been in use since the territorial era when it closed in 2012

Photo Gold Hill NEWS archive
Still, one of the strangest episodes at the prison involved its warden. In the spring of 1873 a change of administration resulted in the request for Warden Frank Denver's resignation so that a political supporter of the new governor could be rewarded. Denver refused to resign. The new warden was appointed anyhow, and in due course presented himself at the prison to take up his duties. Warden Denver refused to open the gate. The Governor, the Attorney General and the Secretary of State each drove east out Fifth Street to clear up the trouble, and each one in turn clattered back to town in frustration. A force of 60 riflemen and a howitzer had been drawn up before the prison gate before the warden surrendered and permitted himself to be superceded.


The 1897 Corbett-Fitzsimmons Heavyweight Championship fight drew national attention to Carson City
After the turn of the century Carson City participated vicariously in the Tonopah and Goldfield booms far to the south. Much of the freight and passenger traffic bound for those two celebrated cities was routed to Reno and then through Carson City to Mound House on the V&T. From there the narrow gauge Carson & Colorado carried it south to Sodaville where freight wagons and stage coaches — after 1903 they were automobiles — were waiting for the last leg of the journey.


This 1910 McKeen car provided twice a day passenger service from Carson City to Minden and back.

Photo courtesy Nevada State Railroad Museum
This traffic through Carson City came to a sudden halt when the Southern Pacific built a branch line that bypassed the V&T altogether, connecting with the C&C from the east. In an effort to replace the Tonopah-Goldfield traffic, the V&T extended its line south into the Carson Valley, but agriculture didn't generate anything like the revenues of mining boomtowns, and the railroad — and Carson City — slipped back into quiescense.

In 1930 the population had dwindled to 1,800, about a quarter of what it had been at the peak of the mining boom 50 years earlier. "Life was peaceful and leisurely with time to enjoy friends and extended hospitality," a long-time resident recalled. "Money was no status symbol. No one was very rich, nor was

anyone very poor. While life was quiet, it was never dull." In 1933 the highway was paved through town, but for a long time afterward kids could roller skate on it without worrying too much about traffic. In those innocent days Carson City advertised itself as America's smallest state capital.

In 1960 Carson City regained its 1880 population level, and in the 1970s Ormsby County was merged into Carson City to consolidate government services in the 145.6 sq mi area. There are now 11 state capitals with smaller populations than Carson City, and only seven that are physically larger.


Bill Miller Engineering designs, engineers and manufactures competition automotive pistons in Carson City, one of many small and mid-sized manufacturers here.
For all its 19th century appeal, the bright lights along Carson Street and the overwhelming presence of state government, Carson City really shines as a manufacturing center. Dozens of medium and small sized manufacturing firms have located in Carson City over the past 15 years. About 20% of Carson City's employment is now in manufacturing (compared to 5% for the state as a whole), a surprisingly high figure for a community 35 miles from the Interstate, with no railroad or regular air service. Some of the attraction may lie in the ski resorts in and around Lake Tahoe, but the large labor pool and relatively low wage scales and property prices are big attractions too. To see Carson City's industrial side, go east on Arrowhead Drive from north Carson Street to Goni.

Attractions for Visitors
Carson City Visitor Center
From Fairview and South Carson Street turn west and enter the Nevada State Railroad Museum grounds. You'll see the Visitor Center ahead on the right. Stop in for an information packet (or go to www.visitcarsoncity.com and download a few things in advance), particularly the map of the Historic District. As you'll see, it contains a suggested walk. But first, walk next door.


The Railroad Museum is a treasure-trove of 19th century technology.

Photo by Max Winthrop
The 19th century locomotives, tenders and cars on display are so enormous, so painstakingly restored and so immaculate that they loom like huge sculptures, idealized forms rather than working machines.

Don't consider that a criticism, quite the opposite, the effect is powerful and it will stay with you. And besides, the museum maintains a busy 2007 Operating Schedule for motorcar and steam trains on the Museum grounds.

And to put things into a smaller perspective, migrate to the far corner of the exhibit building to find a model railroad, still under construction at press time. The purpose of these miniature choo-choos in the same barn with the iron giants is to demonstrate other eras of railroading beyond the Victorian,

Carson City Nevada

Photo by Max Winthrop

and maybe to have something that moves and makes sounds in the stillness. The model layout is being assembled by volunteers, and other volunteers do the many hands-on jobs required to repair, restore, maintain and operate the gleaming beauties on display here. The building also houses one of the best take-a-present-home for the kids (or grand-kids) gift shops in Nevada. It's railroad oriented, which means there's something here for everyone (does anyone have too many striped engineer's caps?).

Nevada State Museum, 600 N. Carson street

The former U.S. Mint is the heart of the Nevada State Museum.

Photo by Max Winthrop
The immense production of gold and silver from the Comstock mines prompted the establishment of a branch U.S. Mint in Carson City in 1866. The handsome structure on the northeast corner of Carson and Robinson Streets was built of prison-quarried sandstone and produced nearly $50 million in coin of the realm until it closed in 1933. The old coin stamps are still inside (and still put to use to make commemorative coins for special occasions). Exhibits range from stuffed animals in glass cases through walls bristling with guns to the unique facsimile of a silver mine down in the basement. Dat-So-La-Lee's woven baskets are a national treasure, and the mineral exhibits are exceptional.

The Great Basin Art Gallery

This former statecoach station maintains the most accessible exhibit of Nevada art in the state capital

Photo by Max Winthrop
This former stagecoach station behind the old Supreme Court Building at the corner of 2nd and Curry streets displays fabulous, exquisite, wonderful Nevada art. The gallery exhibits the work of many fine contemporary Nevada painters, sculptors and photographers.

Browsers are welcome.

Historic District Walking Tour
While you're in the neighborhood, spend an hour wandering the streets of the historic district, map in hand. These houses reflect the early city of the 1860s and '70s, and the walk is almost enough to take you back there. To help with the time travel the Visitor Center will outfit you with a CD with dramatized tales of these houses and their inhabitants. You can listen to these on the web (www.visitcarsoncity.com), but the impact is undeniably stronger when you're standing (or parked) right at the gate at 502 North Division Street as Sam Clemens, aka Mark Twain (portrayed by McAvoy Layne), tells us about his elder brother Orion and this fine house he built in 1863. I used to recommend a certain path to follow through the streets of old Carson City, but I get all turned around in my directions. Thanks to me, visitors were wandering around for days looking for the Ferris Mansion — yes, the ferris wheel Ferris lived here for a while as a boy — and other marvelous residences in all the wrong places. To get it right, stop by the Visitor Center at Fairview and S. Carson Street

Nevada State Capitol

The Nevada State Capitol

Photo by Max Winthrop
Carson Street, at the center of town. Open during office hours; no admission charge. This solemn old sandstone monument to the 19th century has been earthquake-proofed and renovated throughout, but its Alaskan marbled halls are still decorated with elaborate friezes, and hung with the portraits of former governors, back to "Broadhorns" Bradley and James Nye, the Virginian whose loyalty to the Union Abraham Lincoln rewarded with the governorship of the Nevada Territory in 1861. The present governor and other top state officials continue to do the state's business here, but the original Senate, Assembly and Supreme Court Chambers upstairs are most often used for exhibit space and are usually open to visitors. The octagonal afterthought out the back door was added in 1908 when the burst of economic and political activity at Tonopah prompted an expansion of state government.

That oddity was the last benign addition in the neighborhood of the capitol as a gallery of architectural compromises now presses in closer around the old silver-domed building of the pioneers.


The Nevada state capitol plaza

Photo by Max Winthrop
The promenade between the Capitol and the Legislature Building has become populated with sculpture. Buckeye Blake's Kit Carson, lifesized and personal, is studying the trail from horseback, his rifle ready in his hand. Adolph Sutro, larger than life-size, is poised to drive his pick into the famous four-mile tunnel he dug to drain the Comstock mines. And Abe Curry, pioneer real estate developer and city builder, stands earnestly in a badly cut coat, clutching a bronze wad of blueprints like a club.

Carson Hot Springs

The hot springs pool

Photo by Max Winthrop
1500 Hot Springs Road. Open daily 7 am - 10 pm. Admission: kids $8, Adults $10, all day and 'mini-spa rooms' are available. This natural hot water pool complex has been a favored relaxation spot since long before the white man came. The large mineral pool and the hot baths, are the main attraction, but food, drink and entertainment are also available and the water is bottled for drinking.

Lone Mountain Cemetery

A cast-iron sentinel stands watch over the old soldiers' graves.

Photo by Max Winthrop
Corner N. Roop Street and Beverley Drive. Open daily. No admission charge for brief visits. Stagecoach driver Hank Monk is probably better remembered than the pillars of local society (including five governors) who are buried around him here. It was Hank Monk who bounced Horace Greeley up the mountainside to California, lashing the horses over the rocky road and yelling down into the coach, "Keep your seat, Horace, I'll get you there on time!" As one of his contemporaries remarked, "He drank so much hard spirits that he often forgot what he was doing when it came to the incidental tasks connected with staging, and fed whiskey to his horses and watered himself on numerous occasions, thus becoming accidentally sober enough to handle the inebriated team." Many pioneer families are represented here, including Orion Clemens' 10-year old daughter Jenny, some beneath or within elaborate burial monuments, others quite modest. A cast-iron civil war soldier keeps endless vigil.

The Childrens Museum
813 N. Carson Street. Open Tuesday through Thursday, 11-4. Admission: Adults, $4; under 12, $2; under 2 free. This venerable building was once Carson City's library, but there's no shushing inside these days, as toddlers through pre-teens find their way through this agreeable environment. A friendly hands-on entertainment for kids.

All but a few of Carson City's hotels and motels lie along Carson Street (U.S. 395), and most of the rest are within a block or two. As elsewhere, the gambling houses shine the brightest: the Ormsby House is (still) closed for renovation but the nearby Carson Station and the Nugget a few blocks north have now been joined by the Gold Dust West and Slot World on the east side of town, the Fandango on the south and Bodine's, still farther south.

Dining options are numerous in Carson City nowadays. Here are just a few suggestions:

Breakfast
Heidi's Dutch Mill, on Carson Street at US 50 is an institution serving omelettes and stylish lunch specialties.
The Cracker Box a few blocks east at Stewart Street is renowned for hearty breakfasts designed for duck hunters and truck drivers.
The Villa Basque Deli 3113 North Roop, serves breakfast and lunch and you can take some tasty chorizo home with you too.

Lunch
Z Bistro across the parking lot from the Basque Deli is an eclectic French-flavored temple of casual cuisine.
Basil Thai at 311 N. Carson Street is a big local favorite serving splendid fashion.
Firkin & Fox, in the St. Charles Hotel at Third and Carson Street is an inviting re-creation of Edwardian dash.
Red's Old 395 Grill serves lunch and dinner at 1055 S. Carson Street

Dinner
Glen Eagles at 3700 N. Carson Street, culinary elegance in a pastoral setting.
The even more elegant Adele's, serving French cuisine in its doll house Victorian at 1112 N. Carson Street
El Charro Avitia at 4389 S. Carson Street is authentic and informal.


Of course there are many more choices for good food, and Comma Coffee, on Carson Street across from the Legislature is a good choice at any time, with an eggzuberant breakfast menu that includes espresso drinks, fruit smoothies and sandwiches in a comfortable art-infused environment that becomes a venue for music into the night.
Carson City has a busy schedule of events throughout the year, but perhaps the most interesting ones for visitors are:

Nevada Day
This is our annual celebration of statehood on the Saturday closest to October 31, highlighted by a fabulous parade on Carson Street.

The Indian Pow-Wows at Stewart