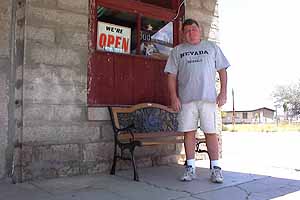 Mike Paradis has renovated the old saloon.

40 miles north of Winnemucca
via US 95 and Nevada 290, this enchanting community was established in 1864 by W.M. Gregg who had entered the valley to prospect the surrounding mountains. When he saw the rich soil of the valley floor, he turned around again and traded in his miner's pick and shovel for a plow.
Paradise City, as it was known then, grew up in the 1860s as a hybrid town. Its immediate surroundings were crop and grazing lands, but in the early 1870s a number of mining strikes were made in the hills that Gregg had turned his back on, and Paradise prospered considerably from the mining operations.
The eventual failure of the mines reduced the town's population again, and it snoozed quietly for decades. By the 1960s it seemed nearly a ghost. Recently, though, life began to return to its tree-shaded streets, and now kids ride their bikes shouting through puddles again, and many of the old residences show recent repair and renovation. The Paradise Valley Saloon has expanded next door with an old-fashoned ice cream parlor and deli for your picnic lunch, but the small grocery down the block, which once provided staples like bread, beer and videos, is closed.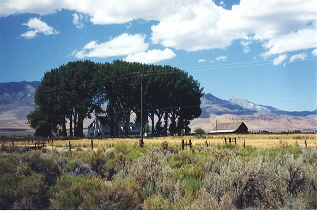 The Stonehouse Country Inn just outside of town.

Adding to the attraction of this pleasant excursion from Winnemucca is the Stonehouse Country Inn just south of town. This is a fabulous three-story ranch house, surrounded by a lush lawn and shaded by cottonwoods, now a bed-and-breakfast of considerable appeal.
The Paradise Valley Fathers Day Barbecue is famous in five counties and three states.